Jackpot! Happy Wars turns 7!
Hey there Happy people! This is the Management Team!
7 years have passed since Happy Wars launched on Xbox 360 as of this month!
Thank you to all of you who have enjoyed Happy Wars with us until now.
7 is a special number, so for our 7th anniversary we're hosting some amazing campaigns!
You only turn 7 once, so let's party in Happy Wars!
7th Anniversary Campaigns
50% OFF on Happy Tickets!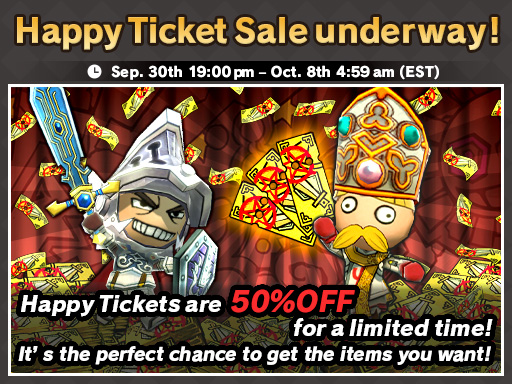 Only for a limited time!

Happy Tickets are50% OFF!!
Don't miss this crazy deal!
777 winners in the 777 Jackpot Campaign!
To thank you for your support over the years, we're giving out 777 Happy Tickets to 777 lucky users!
Don't worry about applying, all you need to do is play the game to enter our special lottery.
If you've logged in between October 1st, 2018 and September 30th, 2019 then you're eligible.
Also, there's a rumor that players who play frequently are slightly more likely to win…
Will you be one of the super lucky players to hit the 777 jackpot?
※Winners can receive their prize by logging in between 5:00 am October 10th, 2019 and 4:59 am October 17th, 2019 (UTC).
※Prizes will be distributed in-game.
※Winners who fail to log in during the above period will be disqualified.
Celebrate with us the only way we know how!
Party hard, and party HAPPY!!