Game Mode
Game Mode
Battle
Quick Match
Hop right into the action and battle other players.
The rules are simple: destroy the Big Tower inside the enemy castle!
There are also smaller towers in the field that you can build. These will act as your team's respawn points, and if time runs out then the team with the most towers wins.
Co-op Mode
Join your fellow players in a battle against powerful AI enemies!
The rules are the same as in Quick Match.

Player Match
A friend-only version of Quick Match.
Special Games
Battles with special rules that you can join for a limited period of time.
You can experience different gameplay modes such as Save the King, where if the player who becomes "King" gets into the enemy castle, their team wins.
Castle Defense mode, in which you fight off AI opponents that try to take over your castle.
Special Challenge mode, in which you fight against special AI teams.
and many more!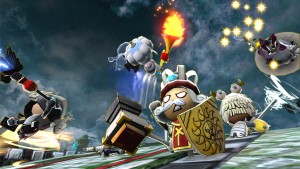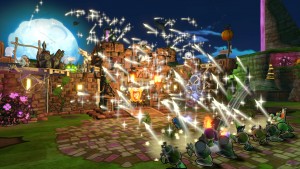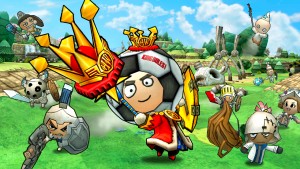 Skirmish Mode
Offline practice versus AI opponents.
The rules are the same as Quick Match: destroy the other team's Big Tower!
Story Campaign
Story-based battles for your enjoyment.
There are many different scenarios, including saving a kidnapped princess or rescuing villagers that were abducted by aliens!
Character
Equip Items
Change your character's equipment.

Item Level-Up
Increase an equipment item's level to make it more powerful. Some items can be evolved once they reach a certain level.
In order to level-up items, other items must be used as materials.
Item Remodeling
Buffs add effects to items meaning that even the same items can be vastly different!
Attach or remove item buffs.
Character Customization
Change the gender and appearance of your character.
Class Change
Change your character's class.
Shop
Happy Cards
Open card packs to get powerful premium items. 'Happy Cards Limited Edition' has special packs that include select items.
Happy Tickets
Get Happy Tickets to buy items, or purchase useful services to use in game.
Item Shop
Use Happy Tickets to buy support items or character customization parts as well as support items such as hammers, boosts and class stickers.

Collections
Mission Mode
List of in-game missions. Complete missions and receive reward items!
Item Encyclopedia
A list of Equipment Items available in the game.
Buff Encyclopedia
List of buffs. You can see the various buff effects.
Treasure Map
You get one item per day. Get a premium item when you reach the last point on the map.