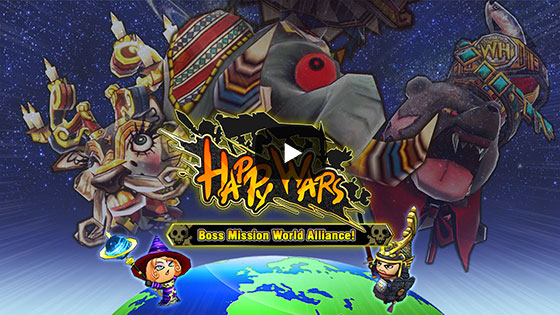 Happy Wars needs YOU!
The big bads of Happy Wars have joined together to threaten everything Happy, and it's up to the Boss Mission World Alliance to take them down!
*Rewards will be sent out once the event has concluded.
*The gauge will update approximately once per hour starting May 25th at around 9:40 pm (UTC).
Jump into a game of coop at any time in the next two weeks and defeat the enemy team's boss to aid the Alliance and bring the bulky brutes to justice! It doesn't matter if you're on Xbox 360, Xbox One or Windows 10; anyone can become a defining member of the Alliance!
For every 10,000 bosses the community slays, every player will receive fabulous prizes! Check them out in the table below!
It doesn't end there! If, through teamwork and determination, the Happy Wars community manages to defeat more than 50,000 bosses, additional prizes may be added!!
Now, get out there and crack a few noggins! Happy hunting!
Bosses Slain
Rewards
50,000

Happy Tickets x75
Super Hammer x1
Mythical Statue x1

High Grade Sticker x1
Warrior-Type Sticker x1
Mage-Type Sticker x1
Cleric-Type Sticker x1
Spawn Stronger Free Pass x2

40,000

High Grade Sticker x1
Warrior-Type Sticker x1
Mage-Type Sticker x1
Cleric-Type Sticker x1
Spawn Stronger Free Pass x2

30,000

Warrior-Type Sticker x1
Mage-Type Sticker x1
Cleric-Type Sticker x1
Spawn Stronger Free Pass x2

20,000

Warrior-Type Sticker x1
Mage-Type Sticker x1
Cleric-Type Sticker x1

Spawn Stronger Free Pass x2

10,000

Spawn Stronger Free Pass x2