Happy Wars major update for Xbox One and Xbox 360 is here!
This update's additions include "MVP Mark" and "Inbox", as well as some adjustments for a better and more exciting experience in Happy Wars!
Please read the information below for more details.


・"MVP Mark" has been added.
From this update, a crown mark will be displayed during matches next to the Gamertag of the player with the highest score.
With this new crown mark, it's clear at a glance who is the team leader. Of course, the player with the MVP Mark may often change during the match.
If you are a beginner, you should follow the player who has the highest score in the team!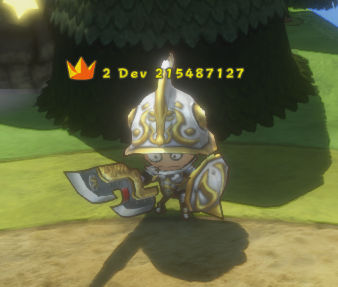 ・"Inbox" has been added.
If you receive items when you already have the max amount, they will now be sent to "Inbox".
You can't equip the items in "Inbox", but you can receive those items from "Inbox" inside the "Collection" menu tab after making some room to receive them.
Even for someone who is not good at organizing, now it's possible to receive items temporally!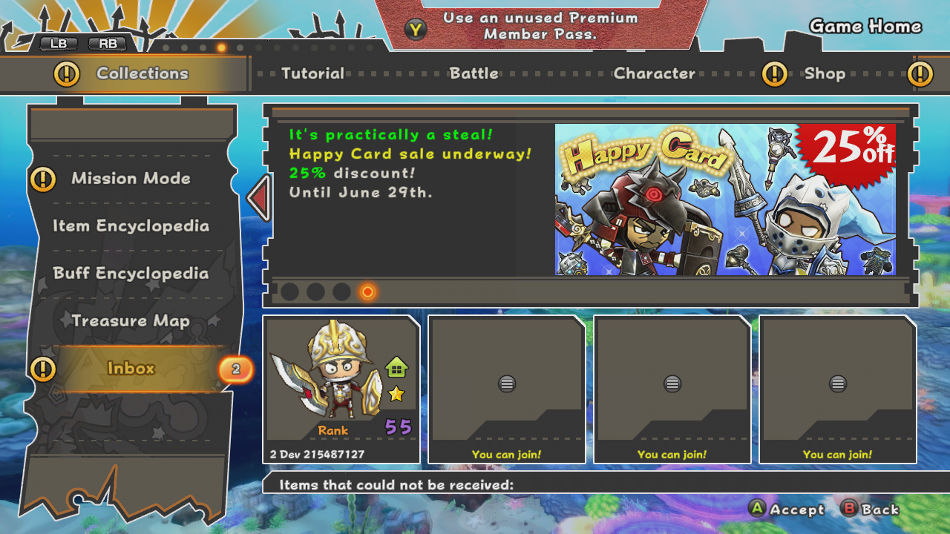 ・Weekly missions have been adjusted.
The missions' difficulty have been tweaked and the rewards have been improved.
This adjustment will be activated from the Weekly mission starting on July 7.


・Four new enemy teams added to the Co-op Mode!
Four enemy teams with their own characteristics joined the Normal and "Hell's Challenge" difficulties.
The added teams are as listed below.

Normal:
| | | |
| --- | --- | --- |
| Team Name | Boss | Characteristic |
| Stargazers | Rocket Man | They try to reach the stars everyday with "Rocketman" … Will that affect their fight style? |
| Cursed Buccaneers | Captain D. Monic | Your characters may get scared because this Cursed Buccaneers are stunningly fierce! |

Hell's Challenge:
| | | |
| --- | --- | --- |
| Team Name | Boss | Characteristic |
| The Unrested | Sleepyhead Tut | Because of insomnia, these poor warriors wake up quickly after being defeated. |
| Cosmic Commandos | Emperor Cosmogor | They affirm that in space battles, magic shots are the backbone of their strategy! |

These tough but lovable enemy teams will surely bring even more excitement to Happy Wars!
The new teams will be added on Thursday, July 7 at 9 a.m. (UTC).


・We added tips for beginners during matches.
When beginners up to rank 5 play a match, tips will appear while playing.
Useful advice that adapts to the situation will appear depending on what the players are doing.


・The Manual of "High Level Technique" has been added to "How to Play" Menu.
"High Level Technique" page has been added to "Classes & Skills" in "How to Play" inside the tutorial tab.
Some techniques that need special commands such as Super Enchant Attack and Dash Attack are described.
Intermediate players who are getting used to Happy Wars may find hints here to catch up with advanced players…!


・The Weight Cap limit has been mitigated.
Mainly focusing on low rank players, the Weight Cap limit has been mitigated.
Thus, beginners have now a wider choice of equipment.
*There is no change in the maximum wearable Weight of each class.


・We adjusted the buff "Spartan Uppercut".
Shortened the cooldown time at the end of Spartan Uppercut.

We also adjusted interface of the match, etc.