The "Boss Mission" continues from last week amid popular acclaim!

The Co-op Mode changes into "Boss Mission" during one season.
In "Boss Mission", a special boss randomly appears instead of "Grim Reeper".
In this case, either "Ganesha", "Grizzly Champion", or "Marquis de Stag".
All of them are mighty, so knock them down carefully.
Click here for more information about the Boss Mission started last week!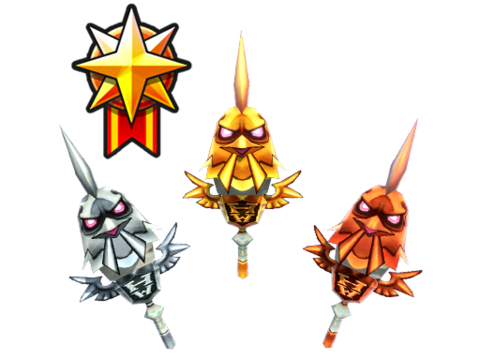 If you kill the boss, you have chances to get rare items which you can only receive through this mission.
The three types of metals make your items High Grade by using them as a Level-Up material, and the "High Grade Sticker" guarantees you to draw a High Grade Item in next Happy Card pack.
Furthermore, in this case you have chances to receive the new item "Emperor Lion Helm".
The more you contribute to kill the boss, the more chances to receive these items, so confront them enthusiastically!

In Happy Cards Limited Edition, the Buff Gems with the "Monster Slayer" buff are appearing!!
The "Monster Slayer" shows its power to the special enemies such as bosses and the "Gate Crusher"
When the season ends, it will transform into either "Fast Attack", "Lightning Resistance Lv3", or "HP Recovery Up Lv3".

Now, defeat many bosses and receive awesome rewards!

"Boss Mission" is on until Wednesday, July 20.
This season ends on Thursday, July 21 at 0:00 (UTC).