Enter "Halloween Styling Contest"!
Dress up your character in Halloween theme and get a prize!

During the period of the contest, chosen 30 users who share a screenshot of an original Halloween themed equipped character will receive "Happy Wars" special T-shirt!

♦Entry Period
October 22 (Thursday) 2015 UTC 9:00 ~ November 1 (Sunday) UTC 9:00

♦Content
1. Equip your character with "Halloween" themed items and place it in any preferred stage.
2. Take a screenshot
3. Share it to SNS! (Submission Complete)

♦Submission Rule
• Any Classes, stages, equipment items and image sizes are welcome
• Too low quality images are exempt from the entry
• Any manipulated images are exempt from the entry
∗Re-touching the color, inserting words, adding objects that do not exist in the game
• There is no limitation for the number of submissions per user Share as many cool images as you would like!
• Any screenshot methods are welcome
∗Xbox One has a screenshot feature. Please see the link here for more details.

Examples of Successful Screenshots: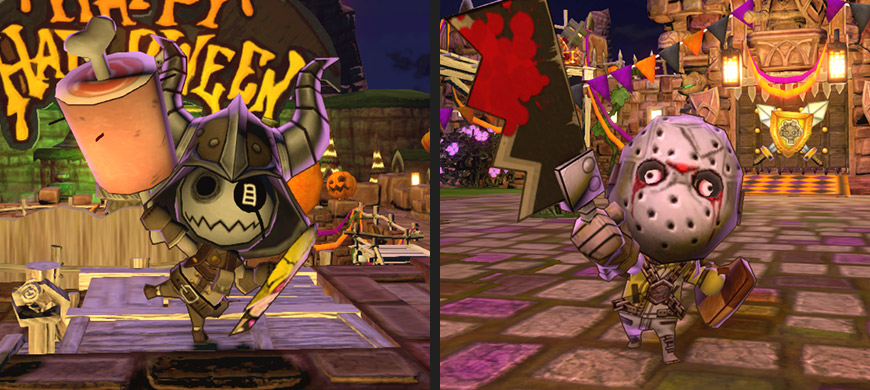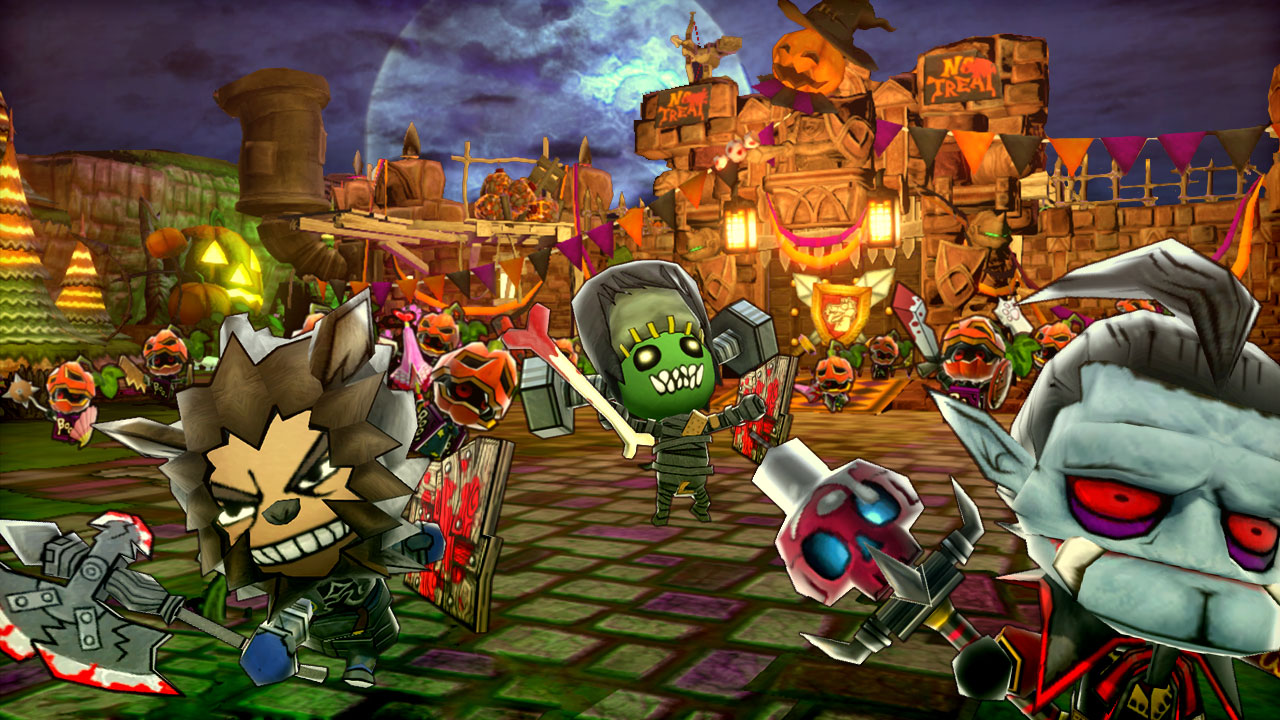 ♦How to Enter
For Twitter:
1. Follow Happy Wars official account (@HappyWars)( https://twitter.com/HappyWars)
2. Tweet a screenshot with hashtag "#HappyWarsHalloween"
3. Your submission is complete!

For Facebook:
1. Post a screenshot with hashtag "#HappyWarsHalloween"
2. Your submission is complete!

♦Winner Announcement and Communication Means
Selected 30 users will be contacted through Direct Message on Twitter or Private Message on Facebook by November 6 (Friday). Users who submitted the contest on Twitter are required to follow Happy Wars official account in order for us to send Direct Message.
For users who submitted on Facebook, our Private Message may go into "Other" folder under Message, so please check the "Other" inbox.

If there is no reply by November 13 (Friday), we cancel the chosen contest winner. Thank you for your understanding.

Entry Agreements
・Submitted screenshots may be used other than for this contest without a permission, and entering this contest means submitters agreed with terms and conditions. Please read the "Entry Agreements" thoroughly.
・Toylogic Inc. (the sponsor) has all rights to the submissions. Submitters must agree that the sponsor freely uses the submissions for promotions and records.
・In order to submit, submitters need either Twitter or Facebook account (Free).
・Please follow Facebook and Twitter regulations other than "Entry Agreements.
・Submitters who follow the "Submission Rule" and enter during the campaign period are qualified.
・The contest sponsor will choose best screenshots after careful consideration.
・Only original screenshots that submitters take are qualified.
・Repeated the same content submissions are counted as one entry.
・If the contest prize was returned because of absence, moving and unclear address, the receiving right will be considered waived.
・Submissions that violate a design right, a copyright, and a trademark as well as against public order and standards of decency are considered unqualified. Any submissions the sponsor considers inappropriate are also unqualified.
・Any costs to enter this content are submitters' expenses.
・The sponsor cancels the one's entry if the submission is considered fraud, inappropriate, or using someone else's identity.
・The chosen winner cannot transfer the winning right to someone else.
・The contest prize cannot be transferred or exchanged with money.
・All contents and conditions regarding the contest can be changed without notice.
・Please refer to "Privacy Policy (/privacy)" for dealing with personal information.
・"Happy Wars" "ハッピーウォーズ" are trademarks that Toylogic Inc. owns.
・Employees, contractors, and any related employees at Toylogic Inc. cannot enter the contest.
・The sponsor is not responsible for any errors, network disconnection, data loss, glitches, delay, submission content falsification, and connection loss as well as issues with machines used to enter the contest.
・"The Third Year Anniversary Campaign Vol. 1: Halloween Styling Contest" is held by the sponsor, and Twitter and Facebook have no relation to this contest.
・Microsoft is not a sponsor of this promotion and has no responsibility regarding its conduct or administration.